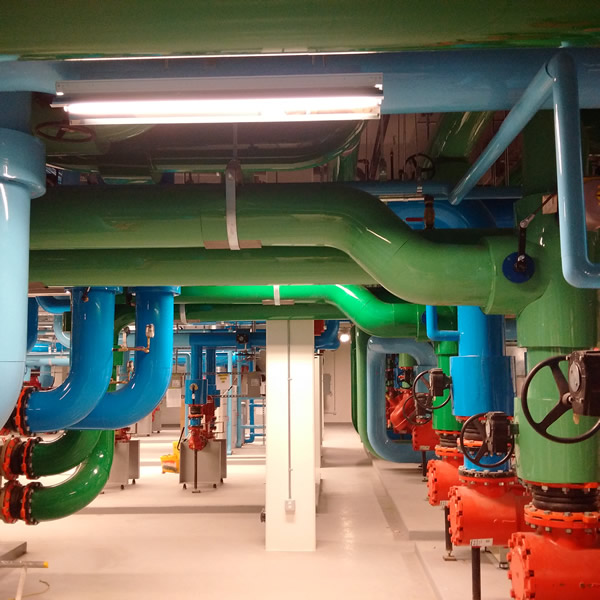 The benefits of effective mechanical insulation are seen primarily through condensation control, energy conservation, freeze protection, personnel protection, and noise control. This is achieved through a wide variety of insulation types, weather barriers, vapour retarders, and finishes applied to mechanical systems such as piping, boilers, HVAC systems, and ducts. Westcal is well acquainted with, and a qualified applicator of, all of these materials.
Think of Us as Your Efficiency Experts
We save our customers money by using the proper products for the job, with the added benefit of becoming more environmentally friendly. According to the National Institute of Building Sciences (NIBS) and the National Mechanical Insulation Committee (NMIC), "While insulation can be one of the easiest, fastest and least costly technologies to reduce energy cost, it is often the last option considered." Let us be the ones to change this. This mechanical insulation design guide link can help identify what your project may need, or you can contact us directly so we can give you our expert advice on what you will need to maximize your efficiency.
Our Services
Westcal Insulation Ltd. offers a wide variety of industrial and commercial services, with cradle to grave solutions for increasing your bottom line. Since the new millennium, our carbon footprint has become increasingly crucial in regards to the environment. Our services are geared towards more profit for your business while helping everyone do their part in keeping their carbon foot print in check.
We are familiar enough with mechanical systems that we can design and build projects, help you figure out pricing and budgets, and can specify what a project needs regarding the best mechanical insulation types and thicknesses.
Westcal Insulation Ltd. does projects of all types and sizes, from projects costing only hundreds of dollars to projects in the millions, with full material, labour, and performance bonding available for all project demands.
The following is a list of products that we install:
Cellular Insulations
Elastomeric
Cellular Glass
Polystyrene
Expanded Polystyrene (EPS)
Extruded Polystyrene (XPS)
Polyisocyanurate
Polyurethane
Sprayed Polyurethane Foam
Poured-in-Place Polyurethane
Phenolic
Melamine
Polyethylene/Polyolefin
Polyimide
Fibrous Insulations
Mineral Fiber (Fiberglass and Mineral Wool)
Fiberglass
Mineral Wool
Mineral Fiber Pipe
Mineral Fiber Blanket
Mineral Fiber Block and Board
Textile Glass
High Temperature Fiber
Granular Insulations
Calcium Silicate
Molded Expanded Perlite
Microporous Insulation
Silica Aerogels
Poured-In-Place Insulation
Reflective Insulation
Adhesives and Sealants
Reinforcements for Cements and Mastics
Metal Rolls and Sheets – aluminum, galvanized, stainless steel
Polymeric (plastic) rolls or sheets
PVC Jackets
PVDC Film
Laminates
Laminated Foil jacketing (ASJ/FSK/PSP/FSP)
Synthetic Rubber Laminates
Multi-ply Laminates
Fabrics
Mastics and Coatings
Vapor Retarder Mastics
Weather Barrier Mastics and Coatings
Insulating and Finishing Cements
Removable/Reusable Insulation Covers
Firestop/Smokeseal
* With the ever changing market, some items may no longer be available. Please allow us to check with our suppliers for availability.
** Westcal Insulation Ltd. proudly supports local supplies and does not employ the use of uncertified offshore products.